Pumpkin Spice n' Everything Nice... Muffin Drop Pies.
Food is more than just that; it's a memory, a texture, a feeling - something that reminds us of family or community or tradition. It's the inspiration after the creative drought or just what you needed after a long day... It's cathartic and wholesome. My first realizations of this began with pumpkin pie.
Do you remember the first recipe that hooked you?  
As I'm sure many of you know by now there is a dry & wet mixture in baking, and when those mixtures are combined the batter is created for your baked good.

Something I'm sure you don't know though was that I was recently stopped in my tracks after touching the pillowy wet mixture of our Pumpkin Spice drops.

Ever had a memory play out in your mind like a movie?

That's exactly what happened to me after the coconut-oiled dollop hit my skin.

I remembered all of the early years I took up baking...the one's before I had any skillset for making muffins. The years I was determined to make the Pumpkin Pie every Thanksgiving.

This was the one recipe for our family feast of which no one else could touch. You want to make an Apple Pie? Pecan? All yours. The pumpkin though, that's mine.

I'm a texture girl and there was something about the Pumpkin Pie's velvety nature that always captured my attention. A similar experience to cheese cake but with flavors so explicitly an indicator of fall.

It was only necessary I take this fascination and put it into a muffin drop, thus how the Pumpkin Spice flavor was born.

So, with Thanksgiving around the corner, I made a simple recipe that involves our delicious Pumpkin Spice drops that can easily be prepped at home with just a few ingredients. One that's vegan & gluten-free & can be made in just 10 minutes...plus it's NO-BAKE. Can you believe it? Scroll down for the goodness.


"Food is more than just that; it's a memory, a texture, a feeling - something that reminds us of family or community or tradition"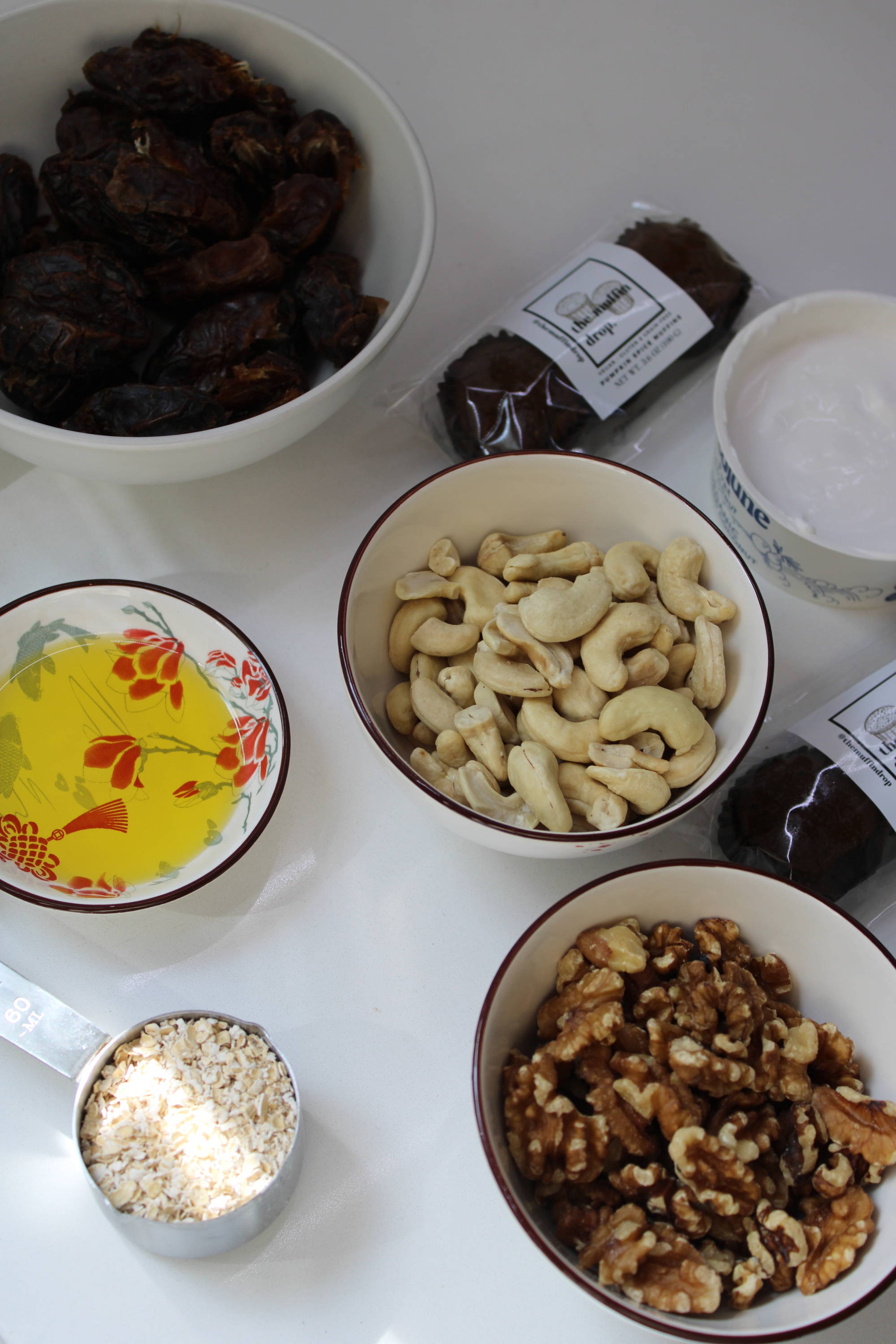 No-Bake Pumpkin Pie Recipe  
No-Bake Crust
- 2 cups nuts of choice, we used 1 cup cashews & 1 cup walnuts
- 2 cups dates
- 2 tbsp olive oil
- 1/4 cup oats

Pumpkin Pie Filling 
- 9 Pumpkin Spice Muffin Drops (three bundles)
- 2 tbsp coconut yogurt, or yogurt of choice

Directions: Blend no-bake crust ingredients in high speed blender until desired consistency. Pat about two heaping tablespoons of crust batter into mini pie pan. Repeat in the second.

Next blend your 9 muffin drops - three bundles of pumpkin spice drops - with 2 tablespoons of yogurt. When this mixture is velvety and smooth, spread two heaping tablespoons onto your mini pies over the crust.

To finish, place a dollop of coconut yogurt on top and garnish with a nut of choice, we chose a walnut!

This is one of the most delicious recipes that only requires about 10 minutes of your time and you won't even have to bake it. The perfect in-a-pinch thing to make for this year's festivities. Most ingredients will already be in your kitchen, other than your muffin drops (unless you have those too!).

We hope you give this a try and have an amazing Thanksgiving!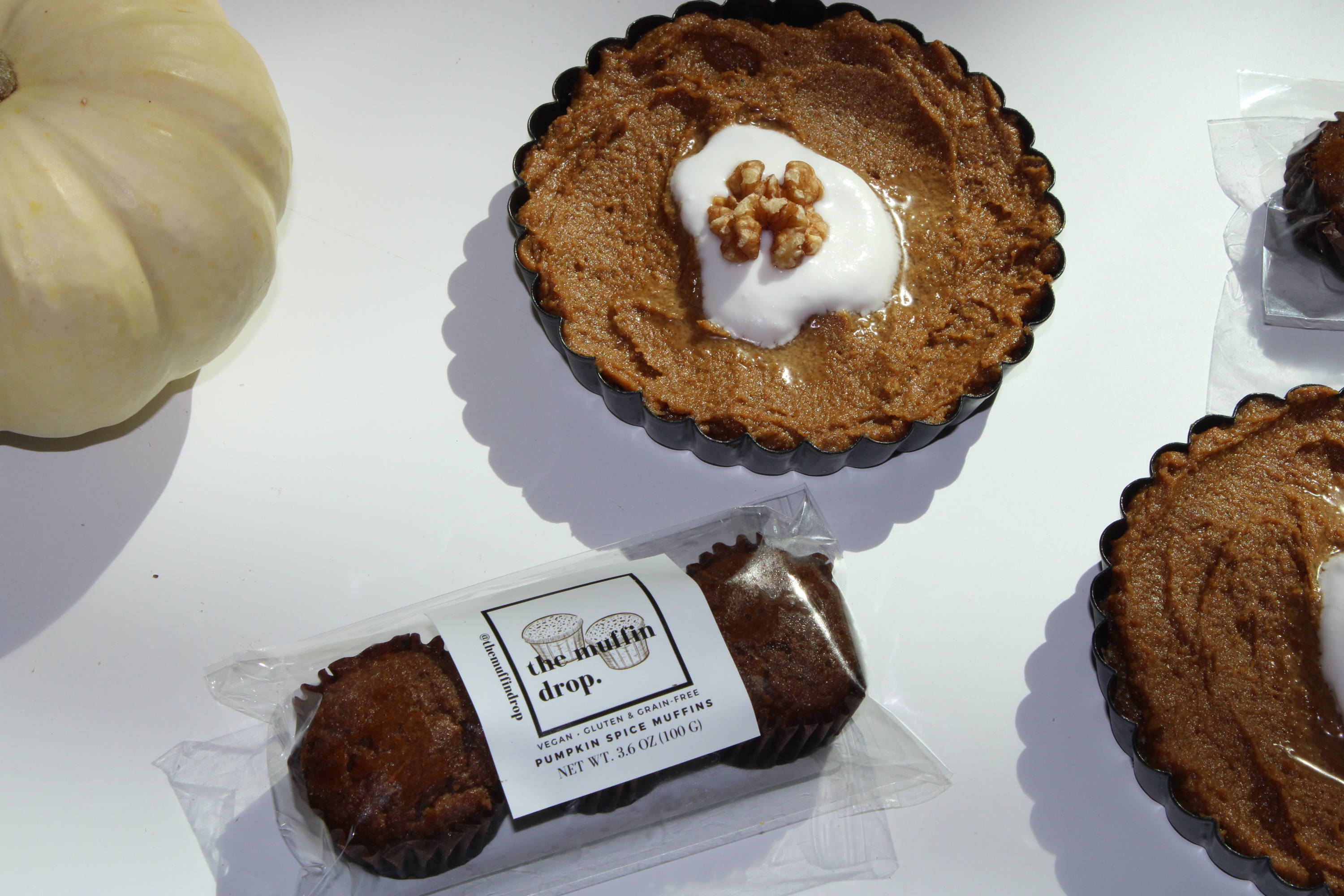 Written by Emily Eldh, Owner of The Muffin Drop.